Identifying Features
The standard globally for identifying coins is the KM Code. This Penny 1990-2000 coin is by referring to by the KM code KM# 20a. The KM code is a unique reference number assigned to each coin.
Below are some other Identifying features, like which Mint the Penny 1990-2000 coin
was made
at as well as some other factors
.
Denomination: Penny
KM Code: KM# 20a
Coin Series: Decimal 1969-2001
Years Produced: 1990 – 2000
Known Mintage: 581,974,000
Distribution: Standard Circulation
Mint: Currency Centre Dublin
Design Features
Heads or Tails? its a simple question right? Well in coin collecting terms the "heads" of the coin is the Obverse and the "Tails" is the Reverse. So why is this important? What you might call the "heads" side of the coin is actually incorrect. The side with the Harp is actually the Obverse (front) of the coin – I know crazy! In a lot of coins from around the world, this seems to happen. It's quite common in Irish Coins also.
The design of the Irish Penny 1990-2000 coin
was based
on Celtic style illustrations of Birds from the Book of Kells. An ancient Irish manuscript created by unknown monks around the year 800. The Penny wasn't alone in drawing inspiration from the Book of Kells. The Half Penny and Two Pence coin also had their design based on birds from the manuscript, below are both of these coins sides by side.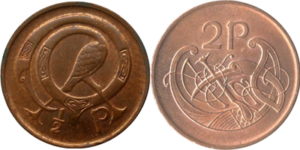 Today the Book of Kells is in Trinity College Dublin and is open to public viewing. Around 1 million people a year go to witness the exhibition. If you want to learn more about the Book of Kells or book a visit to see it, you can do so on the
Trinity College Website
.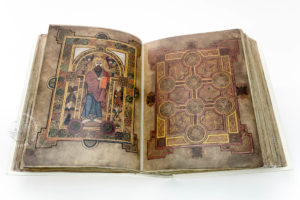 Themes: Birds, Musical Instruments, Stylized Animals
Designer: Gabriel Hayes
Obverse Description: Irish harp
Reverse Description: Stylized bird and value
Mechanical Features
Weight: 3.5600g
Diameter: 20.3mm
Thickness: 1.65 mm
Rim: Raised. Not decorated. Both sides
Shape: Circular
Edge: Plain
Value Table
Below the
Penny 1990-2000
values are shown on a grading scale, the higher on the scale the better condition the coin is in and therefore the more valuable. Check out our
Awesome Guide to Coin Grading In 3 Simple Steps article
to learn more about coin grading. If you really want to understand how to accurately value your coins to ensure you are getting the price when selling or buying coins it can really help.
| Year & Version | Mintage | AG3 | G4 | VG8 | F12 | VF20 | XF40 | AU50 | MS60 | MS63 | Proof |
| --- | --- | --- | --- | --- | --- | --- | --- | --- | --- | --- | --- |
This purpose of this website is to educate and entertain, All values shown are a guideline only and should not be used for any means of financial investment or speculation, as with all things values may fluctuate depending on demand and scarcity, we strongly advise that all information on this website is used as it was intended – for entertainment purposes. The information relating to coins is sourced from many places such as NGC, PCGS and The Irish Central Bank.