Irish Decimal Coins Overview
Ireland switched from Pre-decimal coinage to Irish Decimal Coins on the 14th of February 1971. 
Most of the designs of the pre-decimal coins by Percy Metcalfe were retained, apart from minor modifications, up to the demonetisation of the farthing and halfpenny in 1969.
With the introduction of Irish Decimal Coins in 1971, the penny, threepence, sixpence and half-crown were also withdrawn.
The shilling and florin coins were of equal value with the new 5p and 10p coins and the original designs were therefore adopted for these new coins. In addition, the woodcock design was adopted from the demonetised farthing to appear on the new 50p coin.
New designs were necessary for three Irish Decimal Coins: the ½p, 1p and 2p. Irish sculptor and artist, Gabriel Hayes, was commissioned to design these coins. The designs are based on ornamental details from Irish art illuminations contained in old manuscripts.
In 1986 the 20p coin was introduced. The design was again taken from an original pre-decimal coin design: the horse from the half-crown.
On 20 June 1990, Ireland issued its first-pound coin. This was issued to replace the £1 note and was designed by Thomas Ryan. In keeping with the original Metcalf animal motifs, the red deer, which is native to Ireland, was chosen for the design of the £1 coin.
Ireland officially adopted the euro as its currency on 1 January 1999. In advance of the euro changeover in 2002, the Irish Mint commenced full production of euro coins in August 1999. Production of IR£ ceased in September 2000 with the Millennium £1 circulating coin being the last national coin to be struck by the Irish Mint.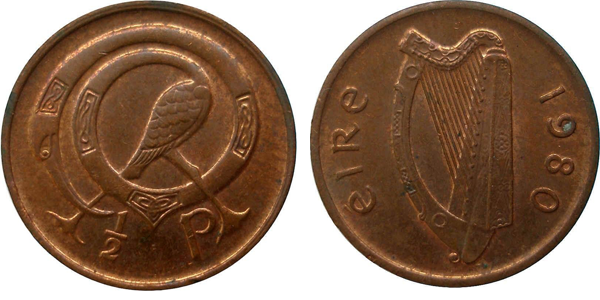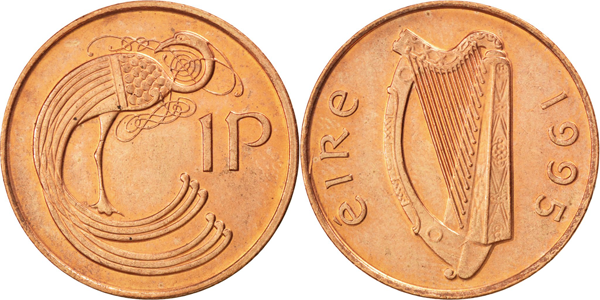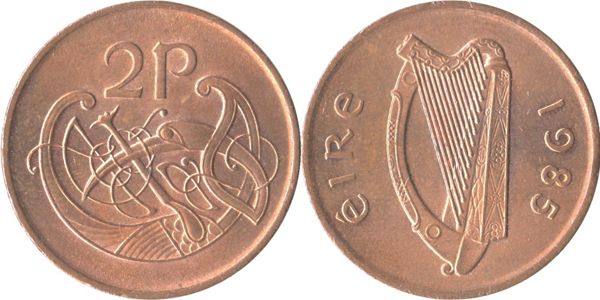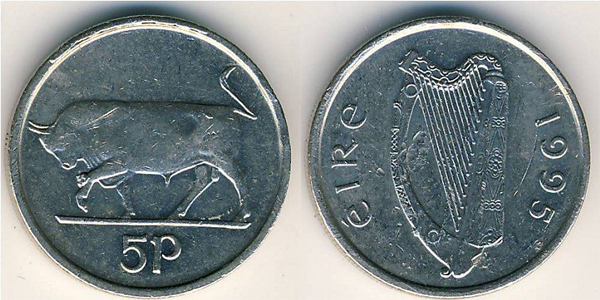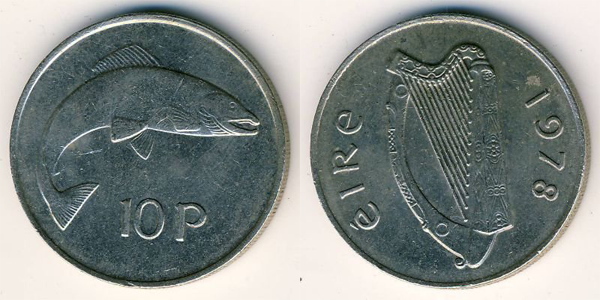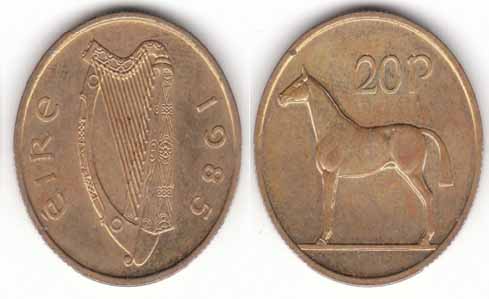 The 20 Pence coin was a third largest denomination in the Decimal 1969-2001-coin series of Ireland. The 20 Pence coin was produced between the years 1986 -2000 at the Currency Centre Dublin mint. In total 208,919,750 of these coins were produced.
There are a small number of 1985 20 Pence coins also which are valued up to $8,000 each. This valuation earned the Decimal Half Penny a place on our Top 20 Valuable Irish Coins list.
Denomination: 20 Pence
KM Codes: 
Coin Series: Decimal 1969-2001
Years Produced: 1969 – 2000
Distribution: Standard Circulation
Mint: Currency Centre Dublin
Find out more information and values for the Irish 20 pence coins on the links below;