Identifying Features
The global standard for identifying coins is the KM Code. This 10 Pence coin is referred to by the KM code KM# 29. The KM code is a unique reference number assigned to each coin.
Below are some other Identifying features, like which Mint the 10 Pence coin
was made
 at as well as some other factors
.
Denomination: 10 Pence
KM Code: KM# 29
Coin Series: Decimal 1969-2001
Years Produced: 1993 – 2000
Known Mintage: 262,966,000
Distribution: Standard Circulation
Mint: Currency Centre Dublin
Design Features
The design was originally created by Percy Metcalfe and was used for the 2 Shilling Florin Coin. Both the Irish Free State Coin Series and the 2 Shilling Florin Coin in the Pre Decimal Coin Series used this design. See below an example of each of these types of Irish Shilling Coins.
The main visible difference between these designs and the design used on this 10 pence coin is that the salmon is facing left on the 10 pence coin, where as it faces right on the florin coins.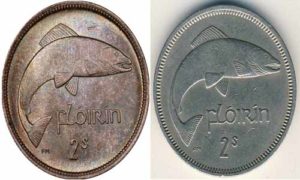 Themes: Animals (Fauna),Fishes,Musical Instruments
Designer: Percy Metcalfe
Obverse Description: Irish harp
Reverse Description: Salmon left
RELATED ARTICLES AND POSTS: 
FLORIN 1928-1937
FLORIN 1951-1969
FLORIN 1939-1943
10 PENCE 1969-1986
Mechanical Features
The Mechanical features of a coin are things like the size, weight, thickness and diameter for example. Looking at the mechanical features of a coin is the easiest way to tell if a coin is real or fake.
Quite often a fake will not match the mechanical features of the original coin when faked. Checking these features should be the first thing you do if you have your suspicions about a coin. Coins are produced very precisely to match the predetermined mechanical features.
Weight: 5.4500g
Diameter: 22mm
Thickness: 1.90 mm
Rim: Raised. Gladiform. Both sides
Shape: Circular
Edge: Reeded
Value Table
Below the 10 Pence values are shown on a grading scale, the higher on the scale the better condition the coin is in and therefore the more valuable. Check out our Awesome Guide to Coin Grading In 3 Simple Steps article to learn more about coin grading.
| Year & Version | Mintage | AG3 | G4 | VG8 | F12 | VF20 | XF40 | AU50 | MS60 | MS63 | Proof |
| --- | --- | --- | --- | --- | --- | --- | --- | --- | --- | --- | --- |
This purpose of this website is to education and entertain, All values shown are a guideline only and should not be used for any means of financial investment or speculation, as with all things values may fluctuate depending on demand and scarcity, we strongly advise that all information on this website is used as it was intended – for entertainment purposes. The information relating to coins is sourced from many places such as NGC, PCGS and The Irish Central Bank.